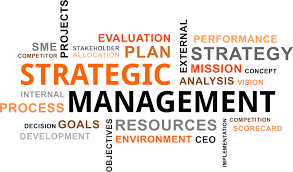 General Management is a comprehensive approach to driving Change, Innovation and Growth in business; while Strategy is a core aspect of that approach, which connects the stages, resources, skills and alternatives available for building robust plan (including implementation) of actions and specific choices that focus on predetermined outcomes.

Designed as a week long (7 days) of experiential learning and activities that involves the most critical aspects of business, this Micro Course gives a feel of the fit-for-purpose Asynchronous but tutor-led, action based and interactive learning methodology of the International School of Management (ISM) Lagos delivered via the Online Campus Nigeria (OCN).

This learning involves many aspects of business, its management and personal/professional skills requisite for success and sustainable excellent results. It focuses on concepts and practices developed as working guide for kneel-jerking responses to a market shake-up and uncertainty such as the whole world now experiences about the new workplace arrangements, practices and productivity.

This course is ideal for individuals who have at least minimum foundational work experience/practical exposure with which they can function within the discussions to exchange professional opinions, query assumptions and reconcile perspectives. It is a dialogic discourse and a taste of the ISM Lagos' unique methodology of delivering a truly effective and totally interactive online learning that also offers learners the opportunity to discover and cultivate new personal habits.

In this strategic planning & Implementation course, delegates would gain an understanding of the relationships between strategic planning and execution, and forge ahead to learn how to develop a strategic mindset, improve their analytical skills, and apply creative planning to current challenges. There is much confusion and controversy surrounding business strategy. Where is the magic pathway to success for organisation? How do we optimize our strategy to use least resources to achieve our objectives? What are the variables and how do we juggle them when so much always seems to be changing? Using case studies and drawing on the ideas and models of leaders in the field, this strategic planning course will debunk the myths and illustrate how good strategies are formed (and why bad ones remain embedded).